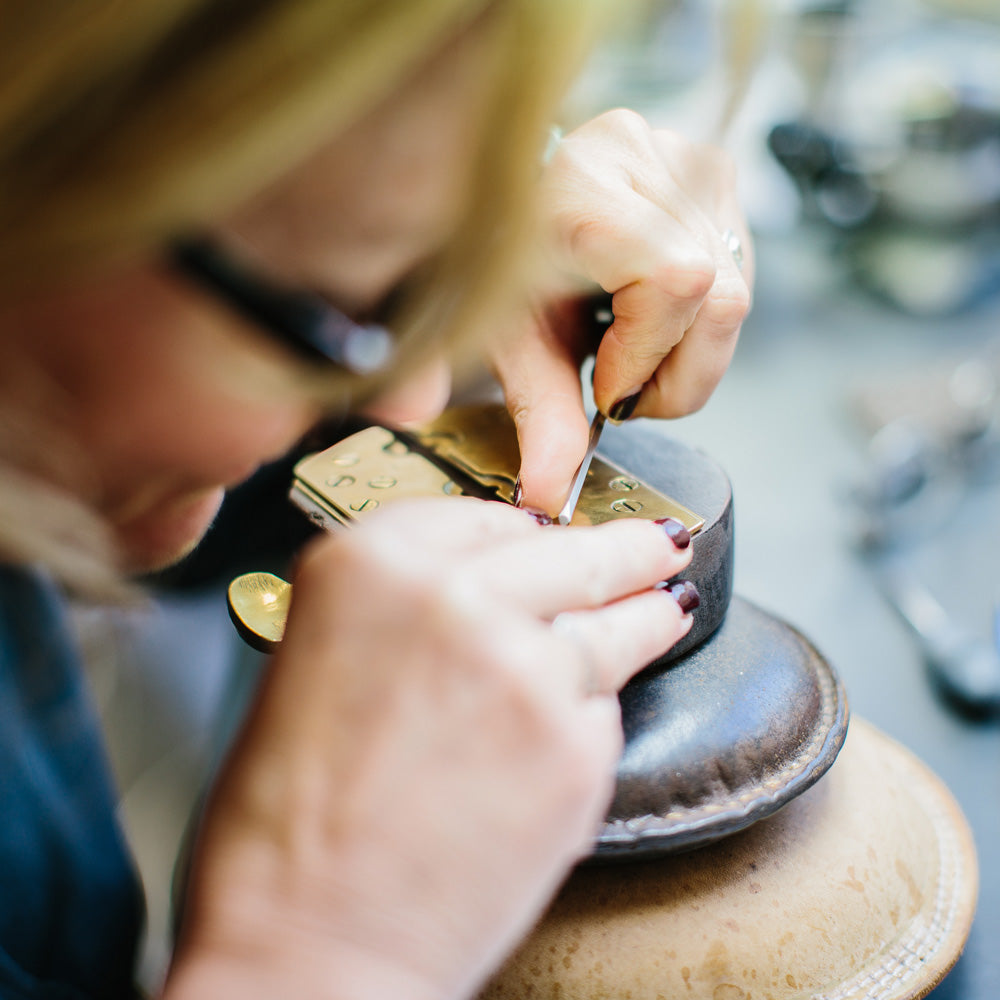 Hand Engraving fee
Hello - Thank you for your interest in Alice Made This :).
This product will have been sent to you if you are looking to get hand-engraving done on your piece of jewellery. 
The price will be bespoke to you and will be based on a conversation you have had with the studio about the number of letters, the font, the position and the piece of jewellery you are looking to engrave. Please purchase this and email hello@alicemadethis.com to confirm all the details of the engraving. 
Please let us know the following:
What you would like written.
The font style (we will match as closely as possible).
The position on the jewellery.
The date when you need to jewellery delivered by (in case it is a wedding or anniversary for example).
Our hand-engraving service can take up to 4 weeks (but usually takes a few).
Any questions please get in touch! hello@alicemadethis.com.
Explore jewellery we can engrave in the studio on our precision engraving machine.

Delivery details.
UK - Next day delivery on orders placed before 2pm, £5.
UK - 3-5 day delivery, Free.
UK - Saturday delivery pre noon, £15.
EU - 2-3 business days via DHL.
ROW - 2-3 business days via DHL.
Engraved Products - Please allow an extra 5 working days for any engraved or personalised piece.
'Made to Order' Products - Delivery will take around 4-6 weeks so that we can make your individual piece to fit you precisely.
For more information about delivery please click here.
If you have any questions you can email us on hello@alicemadethis.com
We use a variety of interesting processes and materials to make our Precision Jewellery. To find out how to care for your products please read our guidelines here.
We are responsible in all that we do. We take this very seriously, with our products intentionally designed to stay with you through life. We work with materials that can be recycled, from inside the walls of our studio all the way through to our packaged product. We take pride in sourcing responsible materials, end to end throughout our journey and stand by the environmental three R's (reduce, reuse and recycle).
We are proud to make all of our products in the UK. We work with expert engineers, artists and jewellers who we know personally and share the same values as us. Together we commit to exceptional craftsmanship and responsible production. Find out more here.
Our jewellery is hallmarked in the UK at the Assay Office, fulfilling the requirements established by law on Precious Metals. This is a guarantee of the purity and quality of the metals used.
Every piece of Alice Made This jewellery is covered by a one-year warranty on receipt of valid proof of purchase. Within 1 year of purchase, if your jewellery needs repair, please let us know via our Customer Care team and we will provide you with a full repair service free of charge. This warranty is in addition to other rights you may have in relation to the piece. Items no longer under warranty can still be repaired for a fee - please contact our Customer Care team.